6mm Spinner / Prop Nut Set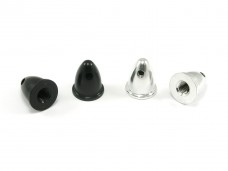 Part #
Spinner Nut Set M6
Availability:
In Stock
Price: $13.95


Our 6mm Universal Spinner / Prop Nuts are CNC machined from billet aluminum. These spinner / prop nuts are light weight and a perfect match for your 6mm threaded prop shafts.
There is the traditional hole drilled through the tip of each spinner nut for easy installation. Simply use any small allen wrench or screwdriver to securely fasten the nut. No special tools required.
This set includes 2 right hand thread and 2 left hand thread prop nuts. Each propeller will be self tightening while the motor is powered.

Installation:
Hand tighten each prop nut onto the propeller shaft, then insert a small allen or screwdriver into the hole and securely tighten.

(Left Hand Thread prop nuts are black and have a groove on the bottom surface. Please refer to pictures for more details.)

Included: 4 - 6mm Spinner / Prop Nuts (2 right hand thread / 2 left hand thread)

Weight (single prop nut): 2.6g
Dimensions:
Write a review
Please
Login
To Review This Product