Surface 120 FPV Racer Aluminum Frame Kit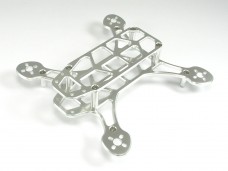 Part #
Surface 120
Availability:
Out Of Stock
Price: $39.95


Our Surface 120 FPV Racer Frame kits are CNC machined from billet aluminum. These multirotor frame kits are very strong, light weight and look great. They will work with a variety of brushless motors running on 2S, 3S, and even 4S.
Assembly is very straight forward with only a few pieces. Kits can be put together in the traditional layout with the motors on the bottom frame allowing up to 2.25" (57mm) props. Or they can be configured as an underslung design with the motors on the top platform allowing for 3" (76mm) props. All parts are included for either setup.
These will accommodate a full FPV setup with separate logic board, ESC's, BEC, and RX. See our recommended components below.
The aluminum frame kits offer advantages such as a rigid platform for responsive flying, arms acting as heat sinks keeping the motors running cooler, and the attention to detail not normally found on these smaller quads.
Below are a few links with a full build video, Libre Pilot setup sheet, and a great flying video showing what these can do.
Surface 120 FPV Racer Build Video
Surface 120 FPV Racer Libre Pilot Setup Sheet
Surface 120 FPV Racer Flying Video

Recommended Components (many other options available):
DYS 1104 Combo Set with BE1104 Motors, XM10A ESCs, and 3020 Props
CC3D Atom
FX758 200mw VTX with direct solder CP antenna
RG Micro FPV Camera
Micro 5V BEC
2S or 3S - 370mA to 460mA battery approximately 30mm (1.2") Wide x 56mm (2.2") Long
(3S is recommended when running 2" props with full FPV equipment)

Included: 1 - Surface 120 FPV Racer Frame Kit
Weight (complete frame with landing gear and screws): 29g

All up flying weight can vary depending on how kit is assembled. We have assembled these with full FPV gear on 3S battery having an all up weight of around 115g. No FAA regulations on this quad!
Dimensions:
Motor Spacing (front left corner to rear right corner): 120mm
Spacing between top and bottom platform: 14mm (.550")
Short Landing Gear: 11.5mm (.450")
Long Landing Gear: 21.5mm (.850")
Motor Bolt Pattern: 8.4mm to 10mm with 2mm screws

Notes:
Motors and Props shown in pictures are not included.
Care must be taken to make sure no exposed electronics come into contact with the aluminum frame. Keeping the ESC's wrapped and the logic board in its enclosure is recommended. All solder connections should be properly wrapped.
Trimming down the 3" DYS props to approximately 2.25" have proven to work very well with these motors on 3S. Short video will be published soon showing how to do this.
When running 2" props and the DYS BE1104 motors make sure to purchase props with a 1mm or 1.5mm center hole. The DYS motors have a 1.5mm shaft. For the 1mm hole props you will need to drill out to 1.45mm.

Compatible Motors
Any micro brushless motor having a bolt pattern of 8.4mm to 10mm utilizing 2mm screws.
Please contact us with any questions
Write a review
Please
Login
To Review This Product