Parkzone Stinson 480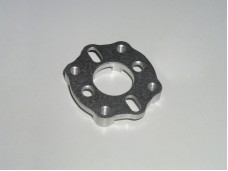 Part #
Stinson 480
Availability:
In Stock
Price: $15.95


The Parkzone Stinson 480 series motor mount is CNC machined from billet aluminum. A key feature to this mount is that it utilizes the stock plastic mount as a buffer zone in the event of a crash. The very inexpensive and easily replaceable stock plastic mount should take the impact instead of damaging the planes fuselage. Simply bolt on and you are ready to fly.
Three step installation:
Attach new motor to aluminum mount with the motors supplied screws
Attach Parkzone stock plastic mount using the original motor screws
Attach entire assembly to the planes fuselage with the original mounting screws
Included: 1 - Parkzone Stinson 480 Aluminum Motor Mount
Weight: 3.9g
Notes:
For proper cowl to propeller clearance the stock collet adapter and nut will work great with motors utilizing a 4mm shaft. You can also use most aftermarket collet adapters that come with the motors.

Compatible Motors
There is a large selection of motors to choose from. Here are a few options.
Acceptable bolt patterns (units in mm):
Please contact us with any questions on motor compatibility.
Write a review
Please
Login
To Review This Product