Flyzone Super Cub Aluminum Motor Mount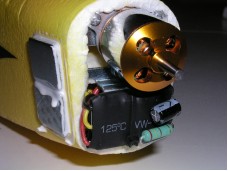 Part #
Flyzone Super Cub
Availability:
Out Of Stock
Price: $15.95


The Flyzone Select Scale Super Cub aluminum mount is CNC machined from billet aluminum. The recommended 450 sized motors are significantly larger than the stock motor and will give this Flyzone Super Cub the extra power it was lacking from the factory but still retain it's easy flying characteristics. No modifications necessary to the plane. Proper thrust angles are machined into the mount for quick installation. Simply bolt on and you are ready to fly.
Two step installation:
Attach new motor to aluminum mount with the motors supplied screws
Attach entire assembly to the planes metal firewall bracket with the 3 supplied screws.
Included: 1 - Flyzone Select Scale Super Cub Aluminum Motor Mount and 3 screws
Weight: 3g
Notes:
The weight of the Power Up 450 Sport, aluminum mount, and propeller collet is 80g. Weight of stock motor and mount is 64g. This extra motor weight will allow you to remove some of the 'dead weight' that was installed onto the super cub which should keep the Center Of Gravity at the stock location. Of course the COG should always be checked per the manual after any modifications are done to your plane.
Compatible Motors
Heads Up RC Power Up 450 Sport (up to 32oz of thrust at 15 amps with recommended props)

The higher KV Power Up 450 motors can be used with an upgraded larger ESC
Acceptable bolt patterns (units in mm):
Compatible Props:
There are quite a few other options based on the type of flying characteristic you are after.
If using larger props please verify that you do not exceed the 18A limit of the stock ESC. A larger ESC may be required if larger props or higher KV motors are used.
Please contact us with any questions on motor compatibility.
Write a review
Please
Login
To Review This Product